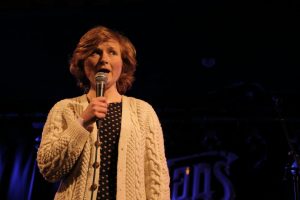 Áine Gallagher 'the queen of the offbeat.'
Áine Gallagher is a gifted performer with skills in stand up comedy, acting, hosting events and performing bilingual comedy. In addition to this, she is one of the co-producers of Bright Club Ireland, the 'variety night for lateral minds' where academic research is shared through the guise of comedy.
Her comedy guarantees audiences a divinely awkward experience as she uses her deadpan style to introduce fun and often complex themes, through the naïve and innocent view point portrayed by her character. This novel and brave approach, creates numerous opportunities for hilarious misunderstandings and pure comedy genius.